Google reviews have become increasingly prominent over the past few years with 86% of consumers claiming that they read reviews for local businesses (including 95% of people aged 18-34) before making a purchase or enquiry. Google has even openly stated their admiration for businesses that take an active role with their reviews:
"Responding to reviews shows that you value your customers and the feedback they leave about your business."
Reviews have always been important indicators of business performance by potential customers, but now with this increased importance placed on reviews by Google, they are more crucial than ever, not only for your brand reputation but also your SEO ranking.
Google Reviews influence your online brand reputation
The benefits of positive reviews in relation to customer engagement are pretty self-explanatory, in fact 91% of 18-34 year old consumers trust online reviews as much as personal recommendations. Google have noticed this behaviour and have implemented the use of customer reviews as star ratings, like what's seen in Google My Business (GMB) search results.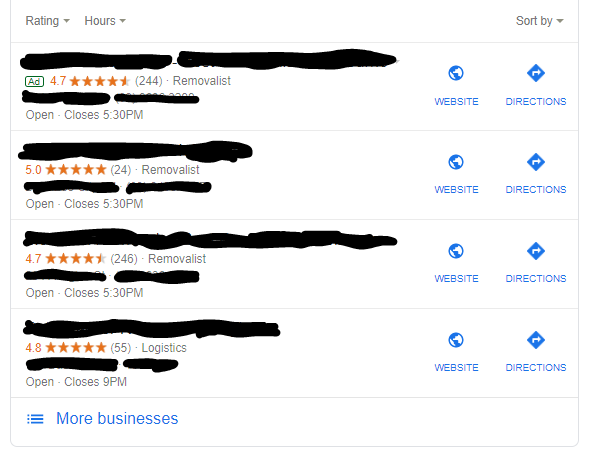 This not only allows customers to see customers the average ratings of the companies products or services, but also gives users the option to view search results by "most relevant", "newest", "low to high" and "high to low" star ratings.
Google Reviews and SEO
Google favours those with star ratings by positioning them higher in their SERPs. It has been estimated that online reviews now make up 10% of the criteria of how Google displays search results.
Star ratings are more than a simple visual aid. Positive reviews tell new customers they can trust your brand, and they are more likely to head to your website. This influx in traffic tells Google that your business is an authority in its industry, signalling it should be higher up in the search results, to help new customers find them with ease.
Tips for Obtaining and Managing Customer Reviews
Follow these tips to obtain more positive Google reviews for your business.
1. Create a Direct Google Reviews Link
When customers wants to write a review for your business, they don't want to go through multiple steps to do so, otherwise you risk them deciding it is too much hassle. To avoid this, it's important to create a direct Google Reviews Link to provide customers a way to leave you a review in one simple step.
2. Initially Building Up Your Reviews
If you have little to no reviews from customers, don't panic. There are a few ways to help get the ball rolling:
Reach out to previous business contacts, friends and family who have engaged in your business, and request they review their experience via the link mentioned above.
Offer to get involved in different events or gatherings to aid in getting your product/service in front of a larger audience.
3. Approaching Customers After Purchases
There is no best practice timeframe for approaching customers for a review after a purchase; it depends on the products or services being offered. For instance, there is no point asking for a review of a candle that a customer has just purchased, if it takes 3-5 days to ship to them first. Establish what works best for your business and arrange an automation strategy from there.
4. Managing Poor Reviews
It's almost inevitable that you will receive poor reviews on occasion. Receiving a poor review isn't the end of the world. In fact, as the previous quote from Google about responding to reviews suggests, if businesses look to effectively respond to manage these reviews it can prove to be positive for both future customers. With a study finding that 89% of consumers are willing to change a negative review based on how the business responds.
Given reach of technology and the availability of information for potential customers, businesses cannot afford to ignore Google reviews. Hopefully, this guide has highlighted this very reason and provided insights into how best to go about obtaining and managing your future reviews.
If you have any more questions concerning Google reviews and how they can benefit your business's online brand reputation and SEO performance. Don't hesitate to contact one of our friendly team members at Redline Digital.