Looking to take your ecommerce store to new levels in 2019? You should be utilising the power of Google Shopping ads. Helping customers find your store with ease, it gives you the chance to use visual elements and optimised web copy to stand out from your competitors.
Google Shopping ads serve as both an advertising platform and online marketplace, creating a 'digital shopping centre' for your customers to interact with your brand and products, as well as generating sales. Google shows relevant product details (from a user's descriptive search) and links to your store, creating an intuitive pathway for customers to visit your site and make purchases. Sounds good right?
Discover how Google Shopping works, and why it's such a useful tool to increase your ecommerce stores traffic and sales.
It's easier to set up than you think
Google Shopping is relatively straightforward to set up and start using!
After creating a Merchant Account with Google, upload your product information to a Product Feed. Google Ads will then help you see what products should be shown when specific keywords are searched.
With one out of three paid clicks in Google SERPs going to Google Shopping ads, prime ecommerce stores know the power that Google Shopping advertising has, and the features it provides.
It has a number of great features that help drive traffic beyond a search ad
A massive variety of product categories
Google Shopping has over 6,000 product categories, with the ability to specify down to ultra-complex levels. For example, Toys & Games > Toys > Sports Toy Accessories > Fitness Toy Accessories > Hula Hoop Accessories. That's how deep it can go.
This is important because you can choose to focus on volume of traffic, or quality of traffic. And how you approach this will depend on the product, for example, going down a complex category pathway will lead to better traffic, but limits your exposure. A broader category will get more traffic, but it may not result in purchases. Either strategy has its advantages for you to use, depending on what item you're selling.
Maximise visual attraction
The initial attraction of a Google Shopping ad is its ability to use images to drive engagement – beyond what written text can.
In the example below, you can see the top Google Shopping ads results at the top of the page, with images to prompt click through to the product (and your website).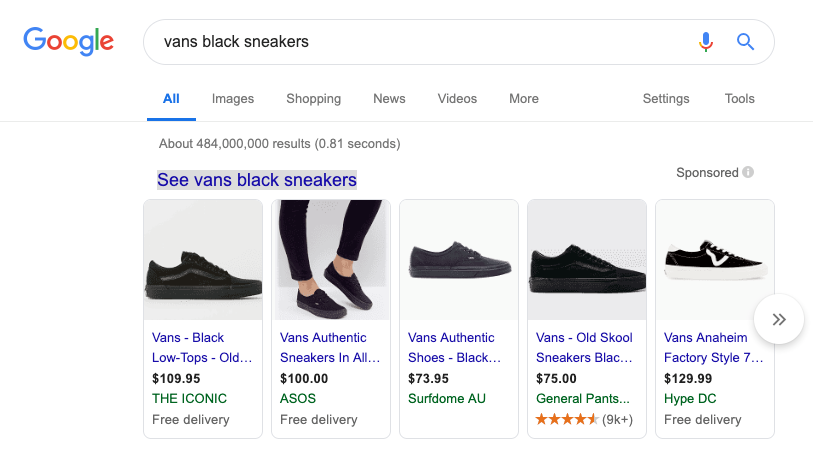 Our brains process visuals 60,000 times faster than text and retain 80 per cent of what we see versus 20 per cent of what we read. This means your potential customers are much more likely to click through to a Google search result with an image, as opposed to purely text. This is one of the major reasons why Google Shopping ads have 30 per cent higher conversion rates than a simple text ad.
Google Shopping ads give you the opportunity to upload your own unique photos, so you can use impactful graphics to stand out amongst the search results.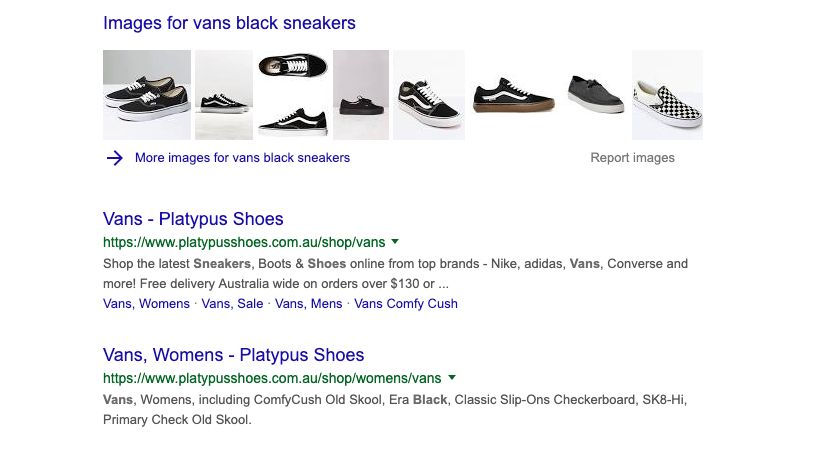 More SERP result opportunities
Using Google Shopping ads allows your products and store to be shown multiple times in Google's SERP – both as a website result, a text-only PPC ad and as a Shopping ad result. This means you should optimise your web copy to take advantage of the wide reach you can have with a Google Shopping ad.
Changing your product titles to match exactly what the manufacturer lists on their own website will mean that you'll be included in similar searches, rather than featuring at the bottom of the list. For example, rather than listing a pair of sneakers on your site as 'Vans Black Sneakers', list them as their specific model and colour, as shown on the website (e.g. Vans Old Skool Black/White).
It's also important to include the keywords that appear on top results. And you also have the chance to optimise your copy to be more location-centric, which is especially advantageous for local businesses who have an ecommerce store. Users can select an 'Available nearby' option, which helps drive higher click-through-rates (CTR) for ecommerce sites, with web copy emphasising their proximity.
If you're looking to optimise your ecommerce store, working with a trusted business like Redline Digital can help you take advantage of Google Shopping ads, as well as a host of other marketing tools.
Redline Digital's team of marketing experts understand the best practical and creative ways to help your store generate more traffic. Contact the team today.