If you work with websites or digital marketing tools, especially if you are running any lead generation campaigns, chances are you live and breathe analytics and reporting tools. We'll even bet that you've got a million tabs open right now, with your different subscription tools quietly crunching the numbers and spitting out reports while you respond to your emails.
The question is: have you been making your life a bit easier for yourself with the help of Google Data Studio? If that sounds like just another name to add to your to-do tabs, here's why you should check it out.
Bringing all your data into one place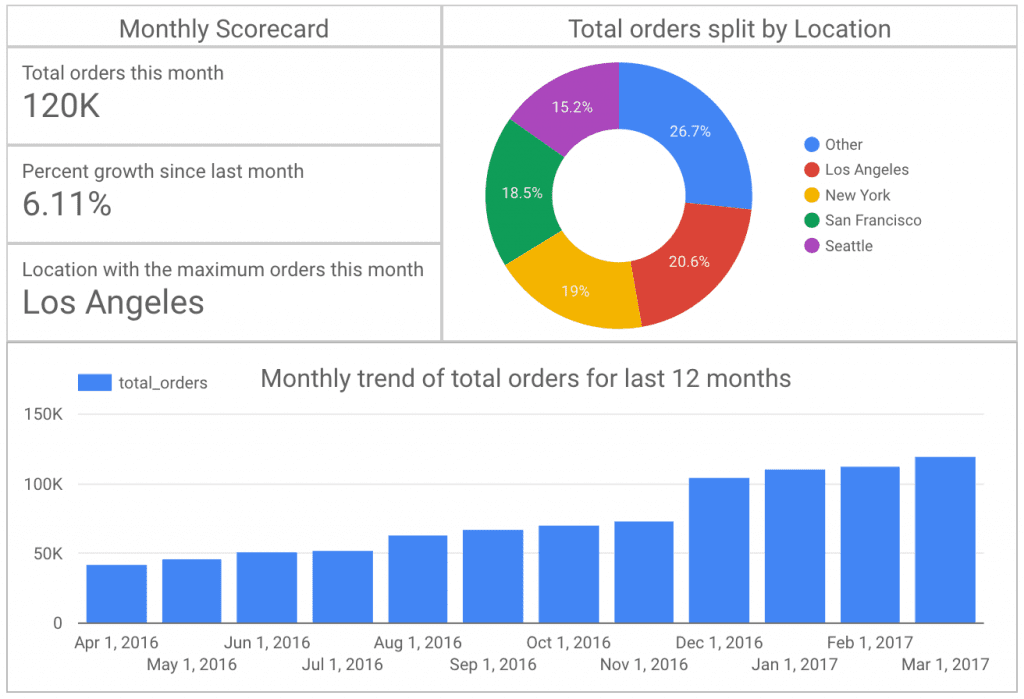 As any true data nerd will attest, the insights you can uncover from basic web analytics tools (like Google Search Console, Kissmetrics, Woopra, etc.) are truly exciting.
At a low cost, website managers or digital marketers can access real-time data based on a variety of metrics, settings and inputs. It's incredible! But do our team members or clients really care or look at the reports we send? For many of us, the report presentation and design is the missing link.
Google Data Studio allows you to link input from a range of different tools including Search Console, Google sheets, Salesforce, Mailchimp, Adwords and your social media accounts (plus many more services).
You can seamlessly layer the data from your chosen sources and present the insights in a coherent and clean report.
Helping you share the insights
Much like other Google tools, they've also made it easy to share reports within a team or to your clients and collaborators. Just like a Google doc, you can generate a shareable link to send out to whomever you choose. This sharing feature is safe ­ – allowing you to keep control over what and who sees specific reports.
The best bit about being to quickly share a report is that in typical Google style, the User Interface and visual design is clean and easy to interpret. Even your fussy team members and clients will be happy with how user friendly the overviews are.
Freedom to customise and adjust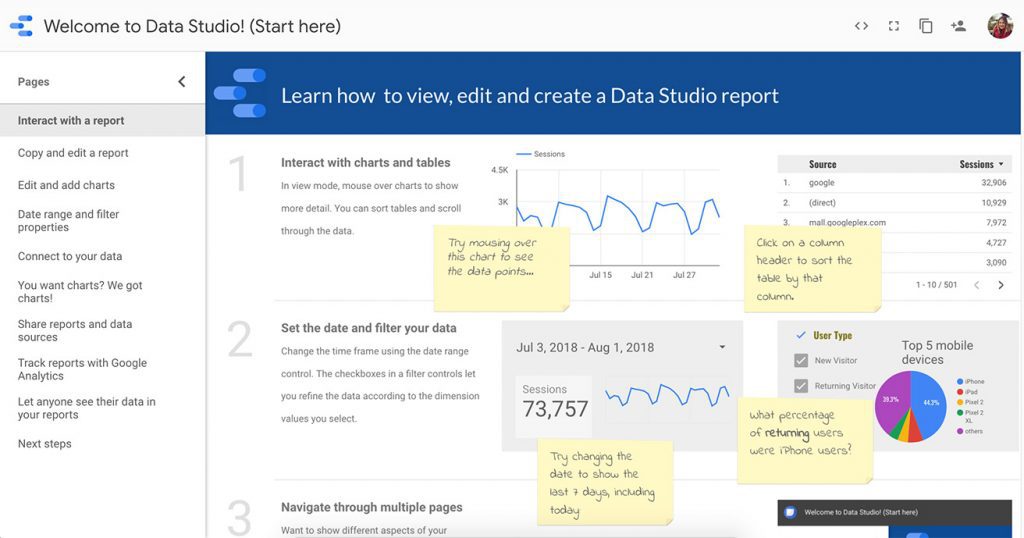 Want to view different date ranges and compare according to different times zones? Not happy with the generic name of a metric and want to rename it something more relevant? Prefer pie charts to bar graphs?  Well it would appear you've met your perfect match in Google Data Studio. The completely customisable tool makes it easy to do web analytics your way.
Oh yeah… and it's free!
Well, the basic version is at least, but it's more than adequate for most businesses. At Redline, we use the basic version too.
You can currently use Data Studio for free and take advantage of all the main features. This includes unlimited sharing. For more serious analytics professionals or larger organisations, the enterprise version and its added benefits might also be worth exploring. Chat to one of the data and analytics nerds here at Redline Digital to discuss how to best get set up in the Data Studio. We'd love to hear from you!