… and we're never putting it down again!
Slack is a handy new team collaboration tool that can integrate all your other apps, like Gmail, Twitter, Dropbox and their notifications into it so you only have to look in one place! At the moment Slack can be integrated with over 80 apps and the list just keeps on growing.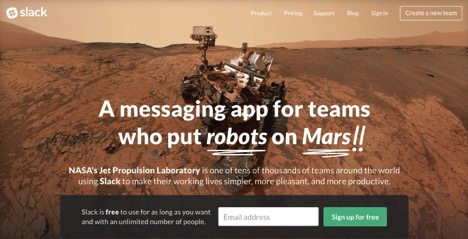 We're using it to ensure quick and easy communication between our team members, some who are off-site, as well as a place to store files and organise meetings.
Slack has three types of communication tools:
Channels: which use hashtags for people to follow and can be organised any way you like – for example, project, products or teams
Direct Messages: for when you want to have a private one on one conversation with someone in your company
and Private Groups; for team specific conversations that the rest of the company doesn't need to know about.
It also gives you the option to go back through your past conversations, which is handy to see who told whom exactly what and when. Their Plus Plan even allows you to access your entire conversation archive, great for companies that have to keep them on record for security reasons!
Slack is available on iOS, Android, Microsoft with fully native apps and a beta app is available for Windows Phone users. There is also a Web version, handy for when you're at your desk, and it's also integrated with Apple Watch so really – it's available to everyone no matter where they are.
We also love how they've added in Emoji's as a reaction option – sometimes a picture is all you need! (See our article on how Emoji's are taking over the world here)
http://38.media.tumblr.com/067beea300f573425258974c2319d976/tumblr_inline_nr6laaGyWm1tqy3dn_500.gif
We're currently making use of their free service offering, which gives you access to 5MB worth of storage, 10k of your most recent messages and 10 app integrations. You can have an unlimited number of team members with this service and upgrade to their paid services whenever you want – their free offering isn't free for 'a limited time' it's free forever!
Come on, get with us Slackers and use it for good, not evil!